Network for Landscape Conservation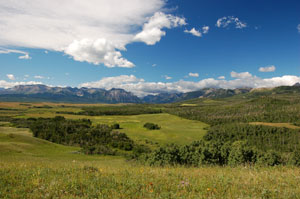 The Center for Natural Resources and Environmental Policy - in partnership with the Lincoln Institute of Land Policy and leaders in large landscape conservation - is coordinating a multi-year initiative to advance the theory and practice of large landscape conservation in North America. The human footprint of development and associated climate change has reached a scale of impact that requires an agenda for large-scale solutions. This initiative integrates three complementary components that advance large landscape conservation through participatory stakeholder engagement (People), enabling policy (Policy), and implementing place-based solutions (Place).
Matthew McKinney, Lynn Scarlett, and Daniel Kemmis, Large Landscape Conservation: A Strategic Framework for Policy and Action (2010)
Toward a National Framework for Landscape Conservation: A Concept Paper Based on the National Policy Dialogue on Landscape Conservation 
National Policy Dialogue on Landscape Conservation: Convening Materials
Please contact Shawn Johnson for more information.